Body of the City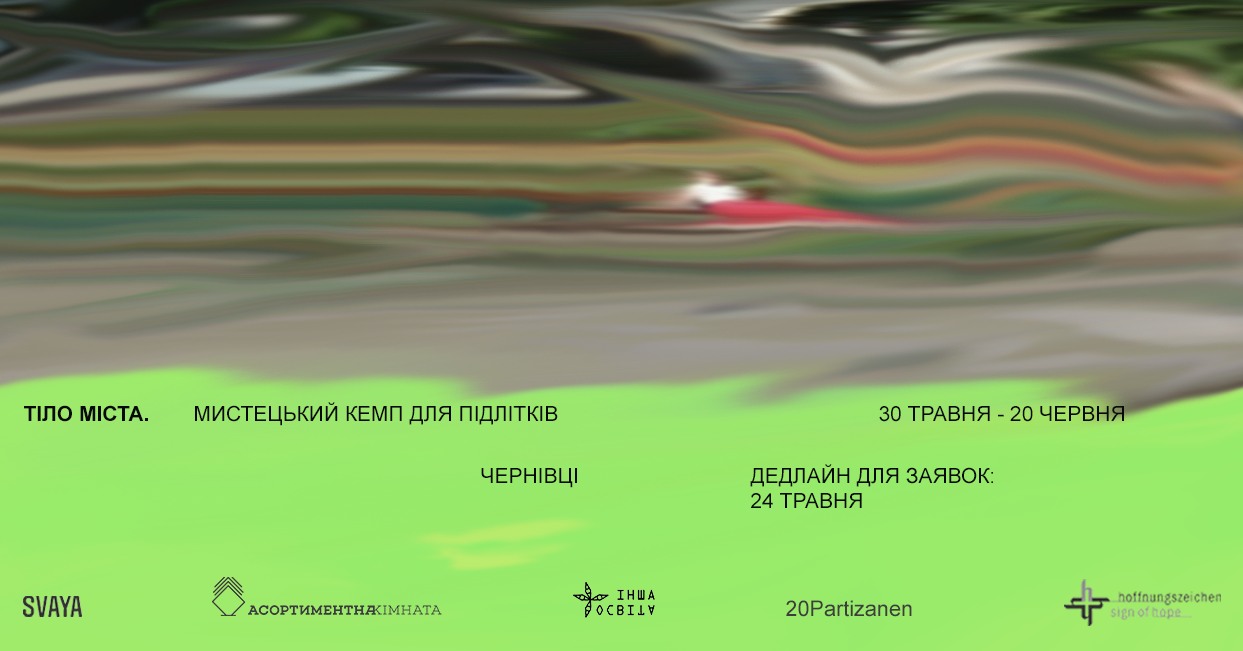 Funding: Hoffnungszeichen | Sign of Hope
Partners: Hoffnungszeichen | Sign of Hope, private donors Alina Gruia, Andrew Xuan and Mike
Duration: May-June 2022
Budget: 6000 EUR
Coordinator: Anna Chernenko
Contact: info@inshosvita.org
Due to the full-scale war, many Ukrainians have changed their place of residence and close circle. Adapting to a new place is difficult for people of any age, and even more for teenagers. While parents are taking care of their primary needs, teenagers are often left out. A crisis of self-identity, a change in the style of socialization, and the general uncertainty of life make it even more difficult to adapt to a new place. At this time, it is very important to find «your people» in a new city, to be part of your community, to feel accepted.
«Body of the City» is an art program for teenagers who found themselves in Chernivtsi because of russia's full-scale war against Ukraine. The project was based on the principles of informal learning and involved joint leisure activities. It was designed to get to know the city through artistic practices, find like-minded people and be part of a larger community.
The program was implemented by Assortment Room and the SVAYA community with the support of Other Education and the German humanitarian organization Sign of Hope / Hoffnungszeichen, as well as private donors Alina Gruia, Andrew Xuan, and Mika.
The project organized informal meetings and workshops for teenagers with Ukrainian artists. They shared their skills in creative writing and painting, working with the body and performativity, objects and space. One third of the participants were teenagers from the local art community «20Partizanen».
Curators of the program:
Olya Polyak is a curator of the SVAYA self-publishing house and the teenage group 20Partizanen, a teacher of fine arts at the M. Ivasyuk Art School in Chernivtsi, and a member of Other Education. She is interested in handmade printing methods, working with public space and environmental art.
Maria Agisyan is a teacher of ethics and aesthetics at a non-existent post-apocalyptic school. She is a co-curator of the SVAYA self-publishing house. In her practice, she explores the experience of the personal/collective, corporeality and psychology, synthesized art formats and self-organized communities.
Anna Potemkina is a curator at Assortment Room Gallery and a member of Other Education. Her areas of interest include grassroots initiatives in small towns, facilitation of educational formats, gender studies, and body practices.
As a result:
the program operated in two cities — Chernivtsi (12 days) and Ivano-Frankivsk (4 days) and gathered a total of 23 participants, 5 curators, 3 supervisors and 1 therapeutic training assistant;
master classes on creating zines, quests, performative workshops, drawing and writing classes were held;
the participants created a zine (collective journal), which became both a material memory and an artistic object.