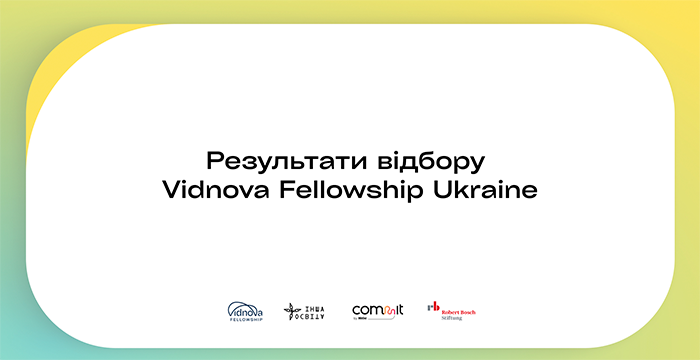 Vidnova Fellowship Ukraine selection results
We are ready to announce the selection results of the Vidnova Fellowship Ukraine program. This program was made for activists, artists, social entrepreneurs, cultural figures who have been forced to move abroad because of Russia's full-scale invasion of Ukraine, but plan to return/have returned to resume their professional activities.
The program provides three-month financial support in the amount of UAH 18,000 per month for the resumption of activities in Ukraine, additional one-time financing of UAH 10,000 for renting workspaces, mentoring or training. The program will also promote networking of participants with Ukrainian and European partner organizations.
We received 750 applications, from which we were able to support 50. Congratulations to those who receive the Vidnova Fellowship Ukraine support:
Daryna Antonenko
Maria Semenchenko
Shaza Musa
Polina Choni
Yana Tymoshenko
Lyubov Malikova
Julia Koval
Alla Vyshina
Oksana Sygareva
Evgeniya Melkonyan
Kateryna Pavlovska
Anna Aliyeva
Olena Brychenko
Alina Bogdanovych
Valery Guevska
Kateryna Strelhenko
Ksenia Matskevich
Khrystyna Semeryn
Olga Solovyova
Lyubov Lisovenko
Maria Kondratieva
Andriy Savych
Oksana Stomina
Hanna Lodygina
Tamila Pedan
Khrystyna Slobodyanuk
Alina Holovatyuk
Olena Kasian
Julia Nechai
Marina Ryzhova
Iryna Savytska
Alina Neskreba
Yulia Kisil
Julia Antonova
Valentina Prytula
Olena Pinkovska
Taras Prodanyuk
Iryna Shcherba
Liudmyla Mishchenko
Solomiya Tomaschuk
Teresa Barabash
Alina Ponypalyak
Tatiana Dashkovska
Olga Ruban
Ganna Bogachuk
Nadiia Voronova
Iryna Yatsyk
Oleksandra Koryak
Anastasia Leonova
Yulia Pylypchatina
Each application was evaluated by a pool of three judges. They are independent experts: cultural managers, curators, volunteers, artists:
Viktoria Shvydko — project manager at Lesya Ukrainka Lviv Academic Drama Theater, head of the NGO Art Workshop Drabyna;
Anna Pohribna — Deputy Director of Mystetskyi Arsenal;
Nataliia Yaroshenko — project manager (School of City Ambassadors, Sumy Rock Fest, RockFightSumy), grant manager at Sumy Agency of Promotion, organizer of the Taras Shevchenko Festival Ше.Fest;
Yulia Filipieva — cultural manager at House of Europe;
Iryna Matolich —  PhD in art history, head of the Design Department at King Danylo University, member of the National Union of Artists of Ukraine, curator of the Bastion Gallery;
Natalia Kernytska — manager of international cooperation at Ukrainian Cultural Foundation;
Galyna Grygorenko — former Deputy Minister of Culture and Information Policy of Ukraine, co-founder of NGO Open Opera Ukraine;
Olena Onohda — assistant for the International cooperation programs at House of Europe;
Yurii Veselskyi — Program and Grants Officer at the Danish Cultural Institute in Ukraine;
Tetiana Kablova — PhD of Art History, member of the National Ukrainian Music Union, Scientific Secretary of the Kyiv Municipal Academy of Circus and Performing Arts;
Inna Pakhomova — Creative Spark Poltava coordinator, board member of NGO Co-Impact, grant manager, project manager, trainer, fundraiser, PhD;
Ilona Demchenko — cultural manager of House of Europe;
Halyna Hleba — co-curator and editor-in-chief of the The Wartime Art Archive at the NGO Museum of Contemporary Art;
Viktoriia Lunochkina — grant manager of the Stabilization Fund at the Goethe-Institut in Ukraine;
Olga Logvynovska — coordinator of the Vidnova Fellowship Ukraine 2022 program.
The program is implemented by Insha Osvita in partnership with Сommit by MitOst gGmbH and with the support of the Robert Bosch Stiftung.