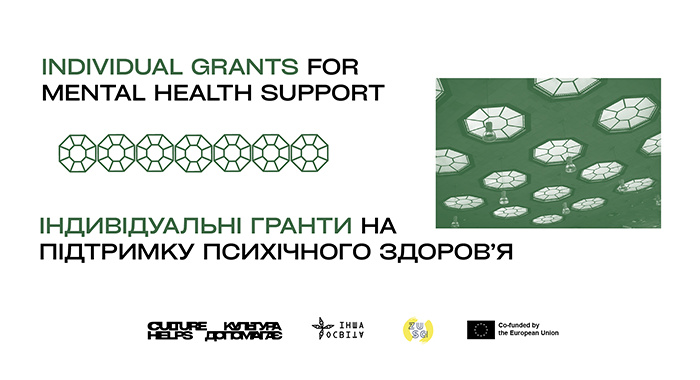 "Culture Helps / Культура допомагає": Individual grants for mental health support up to 1000 EUR
"Culture Helps / Культура допомагає" opens a third call for applications for individual grants. You can receive up to €1.000 as individual mental health support.
The Individual grants programme focuses on support of mental health. Cultural workers, activists and artists, working with people who have been forced to move to safer regions of Ukraine or Creative Europe countries (all EU Member States as well as certain non-EU countries) because of the Russia's war in Ukraine, can receive financial support to take care of their mental health and wellbeing (e.g.: pay for a therapist etc.). The programme aims to draw attention to the importance of mental health in the cultural field. 
Facts on the Individual grants programme
"Culture helps" includes 7 calls for Individual grants, which will be announced in 2023-2024. This is the third call of the programme.
The next call will be launched in January 2024. Each call will support around 30 Individual grantees. 
80% of the total grants are expected to be disbursed in Ukraine, 20% in Creative Europe countries.
Minimum amount of the grant is €200, maximum €1.000.
For each of the previous rounds, we received more than 500 applications. We recommend you to take the time to create a high-quality application that can be supported in view of the large competition.
To apply for the grant, you need to be (eligibility criteria)
Age from 18 years old
A cultural manager, an artist, or an activist who are currently working with displaced persons in Ukraine or in one of the Creative Europe participating countries, particularly families and children, on integration into new communities through culture.  
Reside in Ukraine or be a person who has fled from Ukraine to one of the Creative Europe participating countries after 24.02.2022 (List of non-EU participating countries in the Creative Europe Programme) after 24.02.2022.
Application and timeline
Applications must be submitted via the link. You can find all questions from the form here to prepare your application in advance.
You can apply in English or Ukrainian (choose the one convenient for you – it will not affect the result of the assessment);
If you have technical or other difficulties with the Internet connection, you can submit an application as a Word document. Please reach us via email culture_helps@insha-osvita.org if it is your case. 
Deadline for applications is October 27, 2023, 23:59 Kyiv time.
Results of the selection process will be announced not later than December 4, 2023.
Evaluation criteria
Clarity of the application and motivation of the applicant. Please be as specific as possible in your application.
Correspondence with conditions and focus of the Grant call. The application should be focused on the mental health of the applicant (cultural worker, activist or artist who are currently working with people who have been forced to move to safer regions of Ukraine or Creative Europe countries because of Russia's war in Ukraine). Make sure the application does not support the mental health of other people (except you). 
This programme does not support the implementation of projects. Please pay attention to the project grants programme, or the collaboration grants programme.
The programme does not finance the purchase of medical drugs, medical services and surgical interventions. But we will be happy to support sessions with a psychologist, rest in a sanatorium, etc.
The action plan and financial plan should be logically linked. Please enter the specific amount of your request. Focus on the advice before filling out the application.
Do you have any questions left? Use one of the possibilities to prepare a better application: 
Also, if you work in non-formal education, art, cultural and creative industries, human rights initiatives and related fields and want to support us in evaluating project applications, pay attention to the open call for the jury.
"Culture Helps / Культура допомагає" is a project co-funded by the European Union under a dedicated call for proposals to support Ukrainian displaced people and the Ukrainian Cultural and Creative Sectors. The project is a cooperation between Insha Osvita (UA) and zusa (DE).