Rural Rules 2020: Local Solutions to Global Problems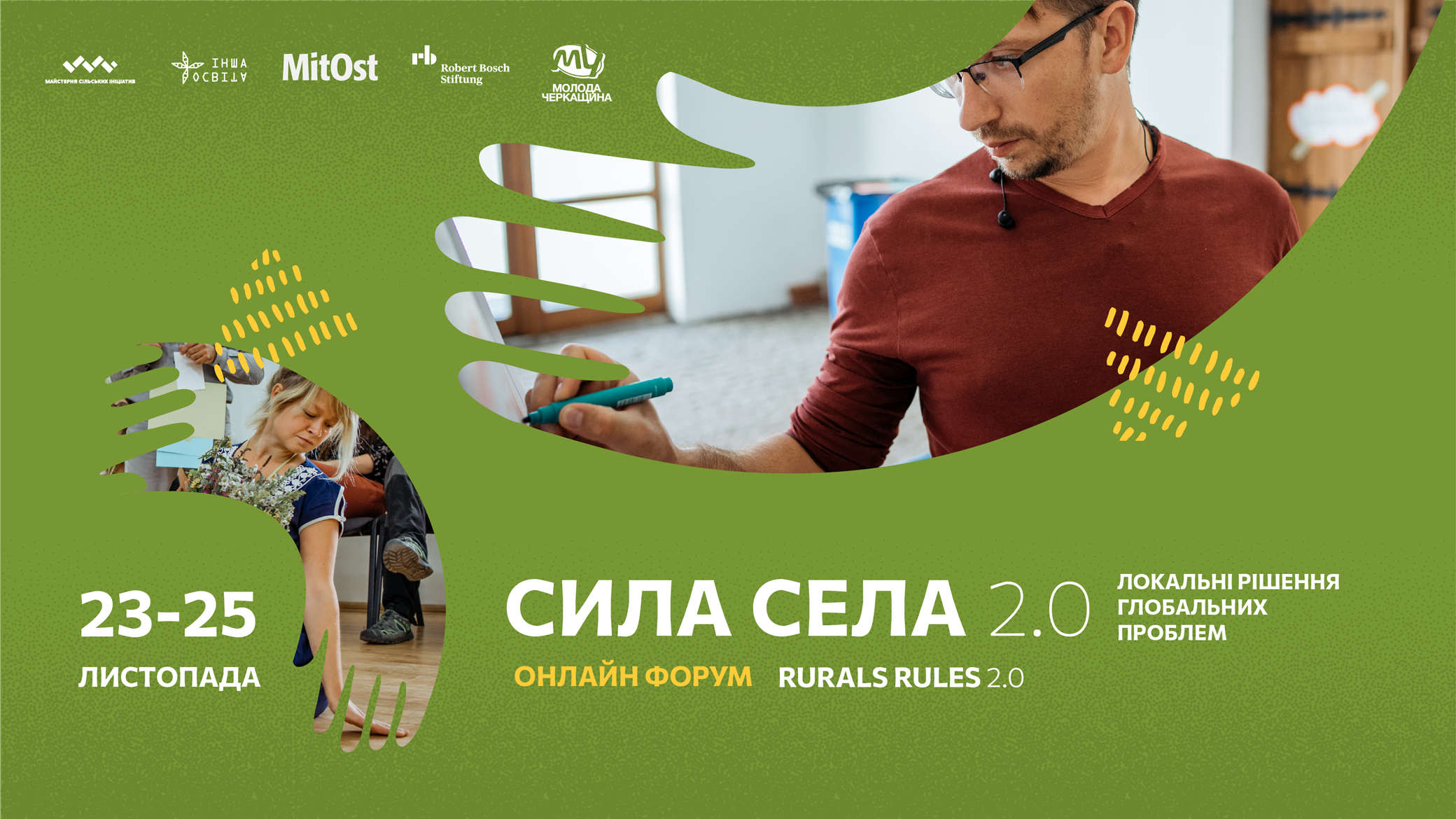 Funding: Robert Bosch Stiftung
Partners: MitOst e.V., Robert Bosch Stiftung, NGO "Moloda Cherkashchyna"
Duration: November 23-25, 2020
Coordinators: Ivanna Chupak, Oksana Ivannik, Viktoria Feofilova
Contact: office@insha-osvita.com

Three global crises defined 2020: the epidemic, economic, and ecological ones. We encountered challenges that required new solutions — responsibility for the health of others, financial stability in uncertain times, and sustainable use of natural resources. Many Ukrainians moved to rural areas in search of a safer and more ecological life. Therefore, we decided to discuss coping strategies of Ukrainian villages with the crisis and to bring rural discourse to a more prominent level.
"Rural Rules 2020: Local Solutions to Global Problems" was a three-day online forum that brought together experts, public activists, and practitioners. The forum participants discussed the problems of Ukrainian villages during the pandemic and ways to solve them. Each day had a thematic focus – "Grounding", "Inspiration", and "Solutions". The first one dealt with new challenges for villages, the second one introduced successful practices, and the third one proposed visions for development.
On the first day ("Grounding"), we held a podium discussion "Vulnerability and the Power of Villages in the Face of Global Challenges". We discussed the issues villages faced during the pandemic and the needs of people in rural areas. You can watch the discussion recording via the link: https://bit.ly/3mCiwCT
On the second day ("Inspiration"), we worked with practitioners in rural communities, looking for solutions to local difficulties in education, culture, economy and business, and civic participation, as well as presenting 15 successful practices.
The participants developed new ideas for their communities on the last day of the forum ("Solutions"). During the podium discussion "Forward to the Future: Visions for the Development of Ukrainian Villages", experts proposed their vision for village development: Valerii Pekar – "positive discrimination for development", Diana Karpenko — "eco-settlements", Yulia Fediv – "cultural projects". More about these three visions, you can read in the article: http://bit.ly/38sJ66w
Finally, we spoke with Vadim Denisenko about inter-municipal and inter-sectoral cooperation possibilities between communities. You can view the recording of the discussion via the link: https://bit.ly/3KJfepn
Overall, 150 participants from 22 regions of Ukraine, Belarus, and Moldova took part in the forum's activities. We involved nine experts – Inna Sovsun, Vadim Bortnik, Ilona Postemska, Tetiana Volochay, Maxim Zalevskyi, Valeriy Pekar, Yulia Fediv, Diana Karpenko, Vadim Denisenko — in the discussions.