Promprylad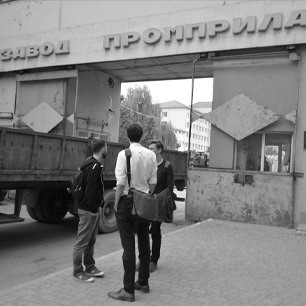 Partners: Teple Misto Platform, MitOst e.V., Pact Ukraine, «Art Management» Agency, Lviv Business School, Kyiv Dialogue, Garage Gang, CANactions, Ukrainian Business Development Platform
Duration: 2016-2018 years
Contact: office@insha-osvita.org
Promprylad.Renovation is a multifunctional platform on the territory of the Promprylad plant, which has combined elements of alternative forms of education, cultural practices of socially responsible business, and an urban laboratory. This project turned the (post)industrial space into a platform for testing, spreading knowledge, and sharing experience between specialists, communities, and companies during forums, workshops, and educational events that took place on the territory of Promprylad.
You can read the study "Promprylad. The point of start" about the history of the plant at the following link.
Insha Osvita and Promprylad
Insha Osvita has been a strategic partner of the project since 2016: it accompanied the development of the project model and offered strategies for the educational and cultural components. Many studies also took place during the preparation and launch of the project.
And in 2018, the prototype version of space  "Promprylad.Renovation" with a total area of approximately 2,500 m² was opened. At it, Insha Osvita handled the launch and filling of two spaces (the gallery "Asortymentna kimnata" and the centre of informal technical and IT education "Roboclub").
In November 2018, Insha Osvita ceased to be a strategic partner of the project.
You can follow the news of "Promprylad.Renovation" on the Facebook page.